HORSES MAKE MIRACLES
​Circle of Life
THERAPY HORSE SPONSORSHIP PROGRAM
The Horses Make Miracles therapy horses each cost approximately $350.00 per month for hay, grain, nutritional supplements, de-worming, bi-annual shots, hoof care, vet care and rent for facilities. The Horses Make Miracles Sponsorship Program offers three levels for contributions with a six month commitment that includes personal time with your sponsored therapy horse. An acknowledgement and photo with your sponsored horse will be included on our website.
Bronze Level – $50.00/Month

Helps provide for hoof care and grain costs

Silver Level – $100.00/Month

Helps provide for hay cost and de-worming

Gold Level – $200.00/Month

Helps provide veterinary care, de-worming, hay, grain and board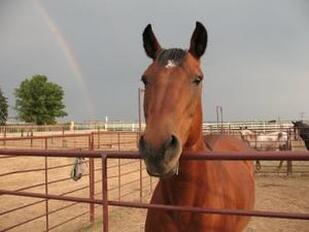 In turn, your favorite therapy horse will receive support in the ways you can give and these awesome equines will provide so much in return to everyone they interact with.
Please feel free to contact us by phone at 303-250-8787 or email at [email protected] for more information and to discuss details for your individual therapy horse sponsorship.