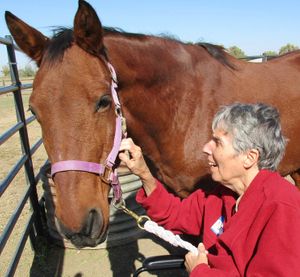 ​SILVER STIRRUPS PROGRAM FOR SENIORS
Our newest program, Silver Stirrups, engages Seniors of all abilities in equine assisted activities, at no cost to the participants. Our wise (and senior!) therapy horses offer connection and learning and fun in a serene outdoor setting. We customize each session to best support our participants. Activities can be learning more about horses, doing some hands-on tasks such as grooming, connecting with a soft voice and touch, or quietly observing. 

The Silver Stirrups program differs from other equine-assisted activities for seniors in that there is no riding involved. This allows for more intimate one-on-one interactions with the horses, the other participants, and the facilitators. This also provides broader access for seniors who are mobility limited, such as those using walkers or wheelchairs. 
Benefits and Activities:
Enhanced physical, mental, emotional well-being
Social interaction and connection
Remembering and creating memories
Engaging the power of the human-animal bond
Fun and empowering recreational activities such as grooming, haltering, leading

We can offer this program free of charge to the participants due to a generous grant from the NextFifty Initiative, a Colorado-based private foundation. They are dedicated to funding innovative programs that enhance the lives of older adults.
Details:
No cost to the participants
For participants 50+ years old
No horse experience needed, and no riding is involved
Small group size (max 8), plus any staff or family, for more individualized attention
Groups may come from: Facilities such as Assisted Living or Memory Care, organizations, friends, or individuals (who we assign into a similar group of individuals)
Sessions are 1 hour long
Sessions may be scheduled to best suit the group: once/week, once/month, bi-weekly, or an individual session
Handicap accessible barn
The Program Will Resume Spring 2023
"I want to thank you for the wonderful experience I've had with the horses at Silver Stirrups. It was very energetic experience and therapeutic for me since I walk with cane. I thought it would be intimidating, however I learned to groom them and even braided their tail."
"Our time at your farm has been magical. Connecting with the horses and the beautiful setting of the farm has been transformative."
"I've had the pleasure of bringing residents from the memory care unit to the Silver Stirrups program on a few occasions. Each time, the residents have enjoyed being with the horses – they smile, ask questions, and get engaged in grooming or petting the horses. The space itself is beautiful and offers visitors an opportunity to enjoy open outdoor space in a way that is also contained and safe for them. It is my belief that the fundamental purpose of activities with folks with dementia is to give them opportunities to experience joy. While they may not recall the experience after the fact, the positive impact is evident to anyone who witnesses these interactions firsthand."
"I had never been around horses in my life. But I was determined to be able to get close to one to at least touch a horse. Now Dakota comes up to me when we are sitting in our circle at the end of the session. He actually comes up to me, rubs his head against my neck and kisses me. What a marvelous experience. What an achievement."