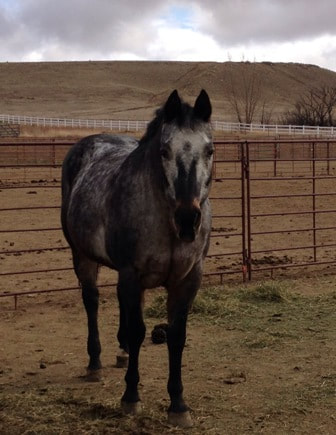 Dakota has been a wonderful and dedicated equine partner since 2008 when he was donated by a dear friend and supporter of our work. He came from Elizabeth, CO and had been a working ranch horse all his life. He's an extremely handsome charcoal grey Appaloosa gelding and is a big, friendly, gentle fellow standing at 15.3 hands. Dakota is the senior citizen of our herd and is 39 years old (as of 2022). In the herd with the other horses, he's always a loner and keeps to himself. When he's with people; however, it's a different story and he loves all the human interaction and attention he gets during lessons. Being semi-retired, he's not ridden very much anymore unless it's with children on lead line which he always cherishes and is so trustworthy. He's a faithful, loving and giving friend to all who know him for the extraordinary special horse he is.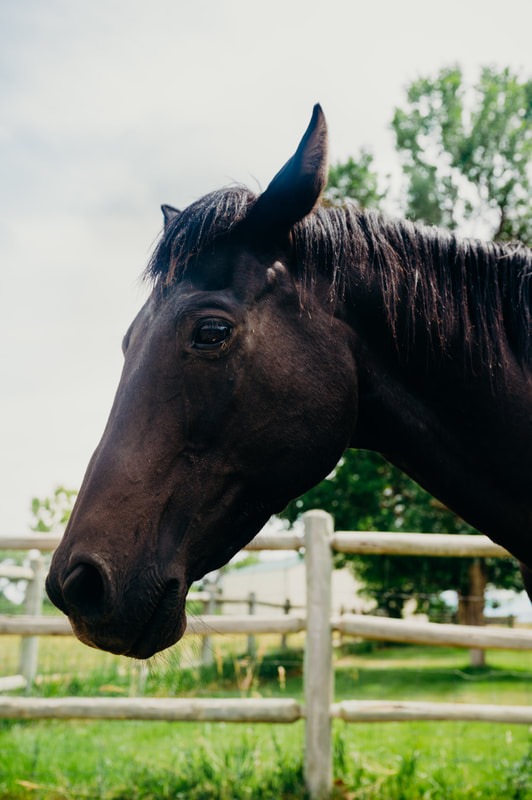 This kind and handsome little black horse came to us in April of 2020 along with his equine friend Charlotte and was happily adopted from Believe Ranch and Rescue in Longmont, CO. His noble and stately disposition prompted the name "Sir Robert" and he's so very appreciative of his new home, humans and herd members. Bob stands at 14.1 hands, is in his early twenties and his gentle manner as well as his patience has proven he's a sweet and wonderful horsemanship lesson teacher for children of all ages. He enjoys his job as a therapy horse in both groups and one-on-one interactions with his human counterparts and our programs are extremely fortunate that Bob has joined our Horses Make Miracles family.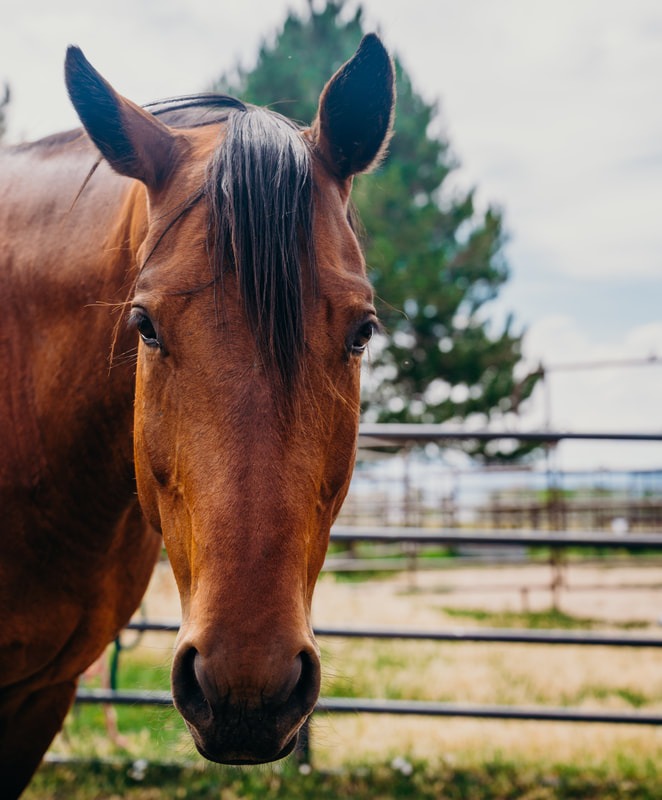 Charlotte was adopted in the spring of 2020 at 8 years old and is a wonderfully cherished addition to our herd. She had been rescued from auction by the dedicated folks at Believe Ranch and Rescue of Longmont, CO in the late fall of 2019. She's the friendliest and sweetest horse imaginable and absolutely loves everybody; humans and equines alike. Charlotte is a gorgeous Quarter Horse cross mare; bright bay with a hefty build, lovely long mane and forelock and is 14.3 hands tall. We were told that she had been trained to pull a cart when she was younger. Charlotte is always eager to please whatever human works with her and excels in everything she does whether mounted or working with groups in un-mounted classes. She's one in a million for sure.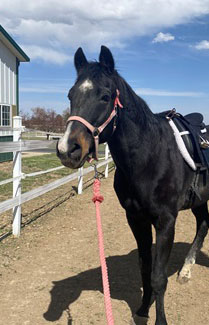 Tony came to us from a thoroughbred farm in Strasburg, CO where many race horses living there were born and bred on the ranch. He needed a good home and care as he was under weight and had been recently moved from a race track that had gone out of business due to the pandemic. He's a big tall dark bay guy with a past in thoroughbred racing in southwest Texas standing at 16.1 hands and his age is in the mid-twenties. Tony is extremely sweet, loves people and is slowly learning to get along in the herd with our other therapy horses. This wonderful horse who deserved a happy life arrived at our barn in late November of 2020 and has slowly but surely gained weight and is in good health. Being super friendly, Tony excels with equine assisted learning ground classes although for beginner riders and kids, he's super dependable and a very safe mount. With arthritis in one knee, he's limited in what he can do under saddle but everybody who meets Tony connects right away with his kind disposition and big heart.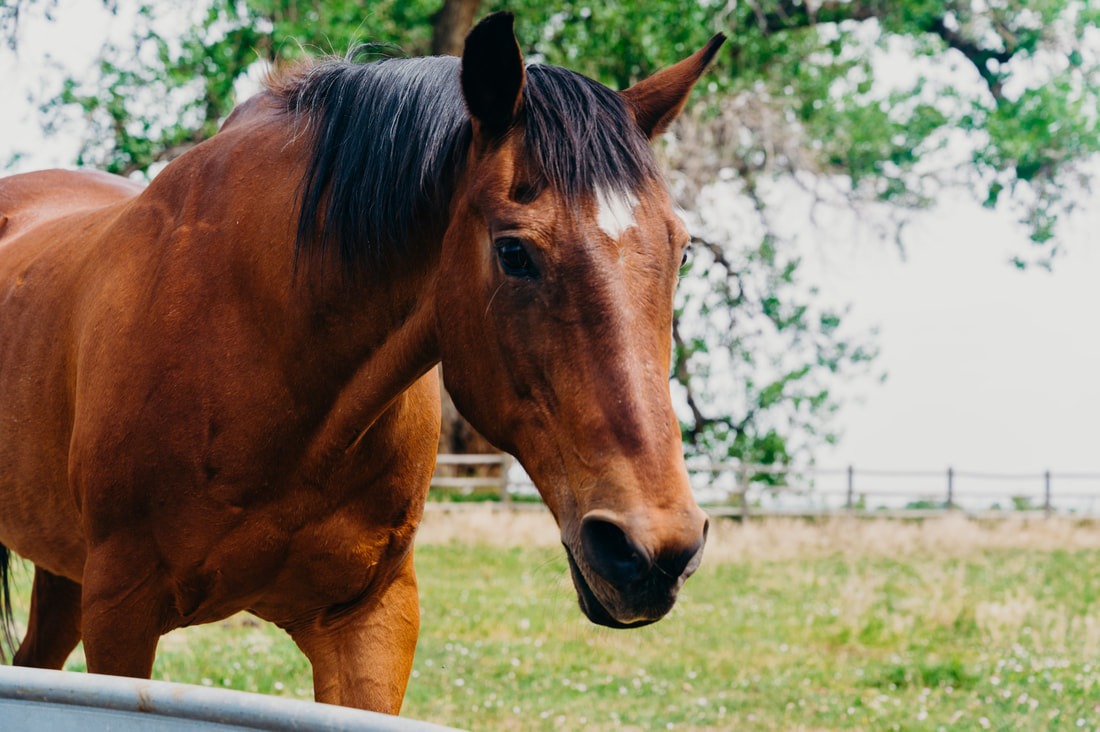 Jacky's Misty Twist" was donated to our programs in 2010 when she was 21 years old. She had a prior career as a working ranch horse and brood mare at a mountain ranch outside Gunnison, CO. Jacky was a registered American Quarter Horse with an impressive pedigree which boasted a long line of champions. She was a stunning red bay mare with a white star on her forehead and was a stocky 15.1 hands tall. Her caring and gentle ways always made her a favorite equine companion with participants of all ages and abilities. Jacky was trusting and sweet by nature and was always the "caregiver mom" to the herd as well as her human counterparts. She had a huge open heart and was empathetic to humans who needed healing. Jacky could be a little pushy and impatient at times although always in a lighthearted and fun way. She suffered from arthritis in her elder years and her beautiful spirit will always be with all of us who dearly loved her.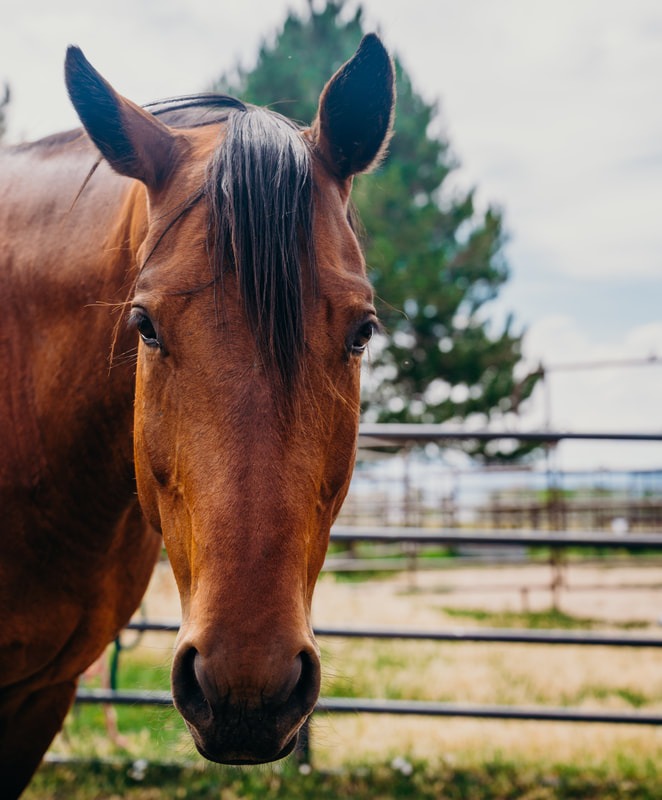 Our cherished Rosie peacefully passed away on May 12 after a long and painful battle with arthritis. She greeted every day of her life with joy, enthusiasm and love for her human friends and herd mates alike. Her sweet soul and big heart made her a favorite of all who shared her life. A strikingly lovely bright bay mare, Rosie was a friend and partner to countless people of all ages who had the pleasure of knowing her. She taught many dozens of horse loving children how to ride and take good care of horses with her patient gentle ways, trusting nature and fabulous disposition. She had been generously donated to us by Sylvan Dale Guest Ranch after being retired from their trail riding program. This lovable little horse was a cherished member of our family and will be sadly missed by all.